What is Tarragon ?
Tarragon is an aromatic perennial herb commonly cultivated to use as seasoning and vinegar. It is a member of the composite family, which is closely related to Wormwood.
Unlike the other members of its genus, tarragon reaches up to 2 feet and grows long, narrow and undivided leaves. Usually in August, the small flowers of this plant blooms. It has round heads, yellow with black spots, and rarely opens fully. As for its roots, they are long and fibrous. [1]
Picture 1: Tarragon Plant
Source: buyfruit.com.au
This herb is native to most of the areas of Northern Hemisphere as well as Asia, India, Europe, North Western America, and some parts of Northern Mexico. It is also commonly called dragon herb or estragon [2].
There are two species of tarragon which are being cultivated nowadays, French and Russian. The French species are more pungent and glossier in appearance. Tarragon tastes bittersweet and aroma which can be compared to anise [3].
Growing Tarragon
The tarragon plant grows well in warm and dry locations. During winter, there should be provided through winter. This is due to the fact that the plant may be injured during severe frost [1]. In cultivating Tarragon, here are some more reminders:
French Tarragon cannot be grown from seeds. So, you will need to either buy or take a grown plant for transplants. This should be done in the fall or spring.
Use well-drained soil for planting the transplants. They should be 2 to 3 feet apart to allow growing. A full-grown plant requires about 12 inches of soil.
Tarragon reaches up to 2 to 3 feet in height.
Do the pruning of the plant regularly. This aids in maintaining the height around 2 feet, to keep it from falling. [4]
Health Benefits of Tarragon
Antioxidant
The antioxidants contained in Tarragon interfere with the damage caused by free radicals to the body. According to studies, tarragon oil decreases or stops the effect that radicals cause.
Sedative/Pain Reliever
In Greek history, Tarragon has been used to numb the mouth after it is chewed. Therefore, it makes a good remedy for toothaches. The pain relieving effect is caused by the eugenol content of the plant.
Another use of this plant is for relieving stress and anxiety as well as promoting sleep.
Anticoagulant
Tarragon has been found to have chemicals which prevent blood platelets and other compounds from causing clots in heart's blood vessels.
Digestive Aid
Tarragon is also well known for its use as a digestive tonic. This works by causing effects such as:
Improving digestion
Resolving problems such as intestinal worms, dyspepsia, upset stomach, and irritable bowels
Helping in liver bile production
Muscle Building
Several studies showed that tarragon aids in building muscle mass. This occurs due to the muscle creatinine absorption.
Eye Health
Tarragon is rich in Vitamin A which is beneficial in improving eye function and overall health.
Female Reproductive Health
This plant has been utilized to aid women who experience suppressed menstruation. However, pregnant and nursing women are not advised to consume tarragon. [2]
Culinary Uses
Tarragon is popular in culinary especially in French cooking. This herb is suitable for fish, chicken, and egg dishes. Also, it is known to be incorporated to give flavor to popular soft drinks in Georgia, Azerbaijan, Armenia, Kazakhstan, Russia, and Ukraine. In Hungary, it is used for chicken soup while in Slovenia, it is utilized for their traditional nut roll sweet cake. [5]
Here are the other culinary uses of Tarragon:
Tarragon Vinegar
This is commonly used to preserve tarragon springs. Tarragon vinegar by putting the tarragon sprigs in a bottle filled with distilled white vinegar. Keep stored in a refrigerator. Take out after a few days and taste it. If it fits your taste, you may remove the sprigs. If not, you may continue steeping it. [6]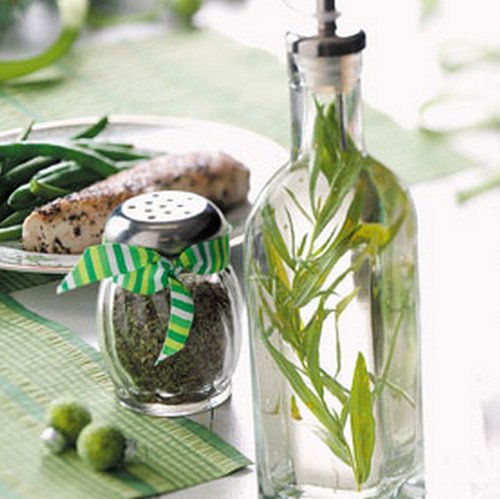 Picture 2: Tarragon Vinegar
Image Source: tasteofhome.com
Tarragon Sauce
To make tarragon sauce, add garlic and tarragon in a saucepan. Boil them for 5 minutes. Then, mix the cream. Stir well until reduced to half. This may be used for dressing chicken dishes. [7]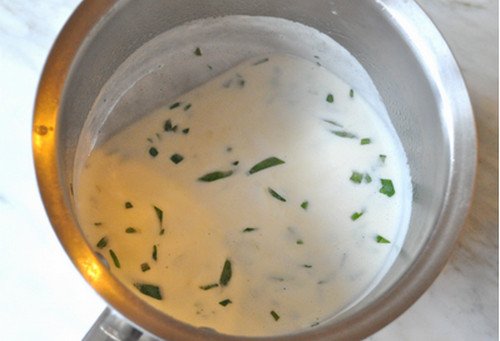 Picture 3: Tarragon Sauce
Photo Source: debishawcrossblog.com
Tarragon Recipes
Tarragon Chicken
Ingredients:
4 chicken breasts, skinless, boneless, and trimmed of fat
3 tsp extra-virgin olive oil
¼ tsp salt
¼ tsp pepper, freshly ground
¼ cup shallots, finely chopped
½ cup white wine
½ cup chicken broth
1 tbsp sour cream
1 tbsp fresh tarragon, chopped
1 tbsp Dijon mustard
Preparation
Using ¼ tsp of pepper and salt, season chicken on both sides. Then, in a large heavy skillet, heat (medium to high) 1 ½ tsp of oil. Toss the chicken and cook until browned, usually takes 3 minutes to cook per side. Transfer the chicken to a plate and cover with foil.
Using medium heat, put 1 ½ tsp oil to the pan. Add shallots. Cook and stir for 2 to 3 minutes until it becomes soft. Mix wine and broth. Then, simmer. For 3 minutes, cook until it gets reduced to half.
Place the chicken back to the pan as well as the accumulated juices. Put the heat on low setting. Simmer for 4 minutes until the chicken is cooked thoroughly. Transfer the chicken to a platter. Then, pour the sour cream, mustard, and tarragon into the sauce. Add salt and pepper. Lastly, add it to the chicken as needed.
Picture 4: Tarragon Chicken
Source: ocado.com
Tarragon Chicken Salad
Ingredients
4 cups of chopped cooked chicken breasts
3 tbsp chopped fresh tarragon
1 tbsp butter
1 cup mayonnaise
¾ chopped pecans
1 tbsp lemon juice
1 tsp lemon zest
1 cup diced celery
1 ½ cups diced apples
¼ cup finely chopped red onion
Preparation
Put the butter into a small skillet. Melt by putting the stove to medium to low heat. Add pecans, stir and cook constantly for 6 to 8 minutes.
Mix the mayonnaise and remaining ingredients in a large bowl. Stir until all are blended. Add pepper and salt. Then, cover and chill for about 2 to 24 hours. Put more toasted pecans as desired before serving. [9]
Picture 5: Tarragon Chicken Salad
Source: taste.com.au
Tarragon Substitutes
1 tsp of Tarragon: 1 tsp of Tagetes (Mexican Tarragon), a dash of ground seed of fennel, ½ tsp of aniseed, or 1 tsp of Angelica (from parsley family)
1 tbsp of Tarragon: mixture of ½ tsp cinnamon powder, ¼ cup of water, and ½ tsp of parsley
1 tsp dried Tarragon: a dash of ground seed of fennel or 1 tsp of marjoram
1 tbsp of fresh Tarragon: A dash of ground fennel seed or ½ tsp of chervil [10]
References:
https://www.botanical.com/botanical/mgmh/t/tarrag07.html
http://www.herbwisdom.com/herb-tarragon.html
http://www.spiceadvice.com/encyclopedia/Tarragon.html
http://www.almanac.com/plant/tarragon
http://en.wikipedia.org/wiki/Tarragon
http://homecooking.about.com/od/herbsspices1/a/tarragontips.htm
http://allrecipes.co.uk/recipe/5150/tarragon-sauce.aspx
http://www.eatingwell.com/recipes/tarragon_chicken.html
http://www.myrecipes.com/recipe/tarragon-chicken-salad-50400000119879/
http://www.buzzle.com/articles/tarragon-substitute.html